Legacy Exhibits
When the Legacy Committee began in 2005, one of our long term objectives was to find a permanent place to display our artifact collection. We found it in 2011 when the Dakota County Historical Society (DCHS) agreed to accept donation of our artifacts and to establish a permanent exhibit at the Lawshe Memorial Museum in S St. Paul. Thanks to VIP Club member emeriti Bernie Jansen and Millie Gignac who worked with then DCHS Director, Chad Roberts to get the 'ball rolling'. Bernie and Millie were also DCHS trustees thus knew the people who could make the decisions. The VIP Board and Legacy Committee are forever grateful for the hundreds of hours which John Westergren put in to arrange for the transfer of the artifacts collected over 7 years from retirees and stored at the Eagan, LMCO facility between 2007 and 2012.
There were already two small 'artifact' display sites in Minnesota; at the UNISYS, Roseville facility in Eagan and at the Minnesota Historical Society's St. Paul Museum. Neither was positioned to become a permanent exhibit location. Our archive advisor, the Charles Babbage Institute Director, only accepts two dimensional objects thus by policy couldn't do permanent hardware displays.
We know of a other museums, listed at the right and detailed in section 6, which have one or two items displayed. We indeed appreciate their preservations of our Legacy.
1.0 Lawshe Memorial Museum - S St Paul, MN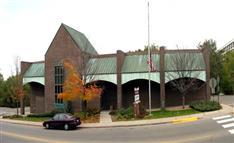 The Realization of a Dream article relates the history of the beginning of the exhibit(s) at this museum. With over 1,000 artifacts this may be the worlds largest collection of defense industry hardware artifacts that range from individual Printed Cards to operator workstations to full sized processors. .
The Dakota County Historical Society had a grant from the state of Minnesota to solicit exhibit ideas and down select from those ideas to develop specific history poster board topics. Keith Myhre developed the original listing of history topics in section 3.1, ..., 3.5 below. Over a dozen exhibit posters were developed under this grant during 2014/15. Within the listing are links to those poster pdf files or to pages on this web site which provide expanded topic details or links to this web site's legacy stories.
An upstairs multi-purpose room in the room has a suite of five workstations where Club volunteers are working to catalogue some ~20,000 photos, slides, and films. There is also a small collection of documents and books available for researchers to peruse during museum business hours.