Our Computer Chapters
1. Introduction
The computer chapter tabs are arranged by bit length, most of the machines within a bit length share an Instruction Set Architecture (ISA).
Our computers span several technology generations: Vacuum tubes, magnetic logic circuits, transistors [germanium then silicon], integrated circuit Diode Transistor Logic (DTL), Transistor Transistor Logic (TTL), and Emitter Coupled Logic (ECL)], followed by Application Specific Integration Circuits (ASIC) then embedded microprocessors as technologies evolved.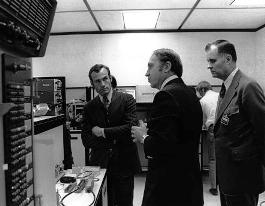 This 1975 photo shows CA Congressman, Barry Goldwater Jr. listening as Engineering Manager, Marc Shoquist [center] explains computer technologies. General Manager Dick Seaberg [right] watches.
Memory technology generations include magnetic drums, magnetic core, deposited film, plated wire, core rope, MNOS, CMOS RAM and ROM, and EEPROMs.