EMCC to UNISYS Chapter
A significant part of our commercial computer operations grew out of the Eckert Mauchly Computer Corporation (EMCC) which had its origins at the Moore School of Engineering in Philadelphia, PA.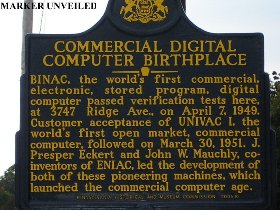 The name UNIVAC, an acronym for UNIVersal Automatic Computers, is well recognized and documented in computer history books.
Not so well publicized but discussed in Herman Lukoff's book "From Dits to Bits" is the fact that the some of the UNIVAC II engineering took place at the ERA plant in St. Paul. Al Reiter's web site showed a UNIVAC I in that plant, look for Bob Stark. When Al contracted Alzheimer's; we preserved his two web pages as pdf files, UNIVAC I people and technical. Sadly, Al passed away in November of 2015.
There is already a lot of history written about UNIVAC and UNISYS commercial operations so we don't want to duplicate the good work of others. Look at several of the items already on the internet, we've provided many links to them on our Links page.
We provided additional information about associated and predecessor companies Burroughs, Remington Rand, as well as some stories contributed by UNIVAC-UNISYS Blue Bell retirees under the Burroughs Tab and the LOCATIONS, Blue Bell chapter.