Burroughs, etc. Chapter
1. Introduction, Burroughs bought Sperry to form UNISYS!
This Legacy chapter is a place holder for stories that don't easly fit within other anthology sections of his web site. [Genealogy diagram by retired UNISYS Fellow Ron Q. Smith.]
Part of the VIP Club history/legacy/heritage is traced to Burroughs which purchased Sperry in 1986 to form UNited Information SYStems. Marketing and Field Service functions for all Burroughs products had offices in the Twin Cities from the early 50s until the 80s. Then their support was combined in a new building at 3199 Pilot Knob Road in Eagan, across the parking lot from the Sperry Defense operations which became a part of Lockheed Martin MS2. A small group of former Burroughs employees meet for lunch monthly at the Mall of America.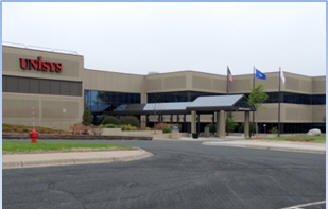 The Pilot Knob facility is referred to as the 'MACS' building in VIP Club literature as we have had volunteers serving at Blood Mobile drives there and now using their visitor's conference room for board meetings and a few programs. Plus, the UNISYS Roseville are being merged therein during 2017. [lab]

We are seeking volunteers to expand these parts of our Twin Cities history.
2. RCA
This section is a placeholder for information about RCA before their computer line was acquired by UNIVAC.