Enginering's Patent Chapter
1. Introduction
We did a lot of creative engineering during the decades of our Legacy. Only a small portion of the ingenious ideas made it through the internal patent process.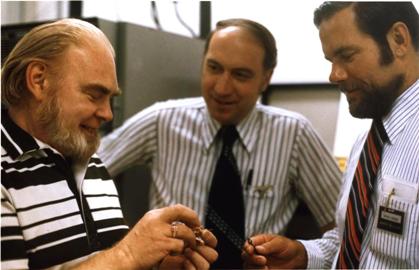 Many were just put aside because the 'Patent Board' didn't see a near term commercial value.
Without a patented device by Bill Davis, SHINPADS would never have worked and we couldn't have performed on the multi-million dollar Canadian Patrol Frigate program.
Bill [with the blonde beard] explains the passive connection device to Marc Shoquist and Ralph Kerler. [photo from Marc Shoquist]