2. Announcements:
September 14 @ 7:00 PM: See section 3 below
September 21, noon: Hear Dale Weeks talk about an initiative to get a Computer History Museum in Minnesota. Click https://www.eventbrite.com/e/the-modern-digital-computer-started-here-in-the-great-state-of-mn-tickets-27029804874 for details and registration.
Lost Video Camera: Someone left a small video camera at the June Picnic! Call Lowell at 651-483-3709 if you are the owner.
October 12th @ 6:30 PM: Program, Pie, and Ice Cream at a

tbd location

. 1) The UNISYS, Roseville facility is no longer available for the Club's evening use so we are evaluating alternate locations. 2) Program topic is Drones, Drones, Drones - Sentera, a local company with roots going back to Lockheed Marin in Eagan, makes small drones that help farmers make good decisions on managing their crops, and helps cell phone and broadcast tower operators stay on the air safely and efficiently. Sentera was recently described as the "premier" drone company in Minnesota by the local press. 3) Speaker will be the Sentera President Eric Taipale [son of Club Treasurer Harvey] and former LMCO employee who also worked on the LMCO 'Desert Hawk' program.
Sad News, August 4th: Marion Scott passed away at age 92. In 2010 the VIP Club had awarded Marion a Member Emeritus certificate in recognition of 30-years coordinating blood drives for the Club at UNISYS, Eagan; UNISYS Roseville; and Lockheed Martin in Eagan as a director of the VIP Club. Since 2010 she had served her fellow retirees on the Christmas dinner/dance program committee. Bless you Marion, the Club Board and many, many friends miss you!
The August 17th St. Croix River Cruise was great, attended by 90 of us. See the report and a collage in the September newsletter.
Transitions:

Lockheed Martin is in the process of spinning off their Air Traffic Management engineering operations presently located in Eagan, specifics will be in our newsletters as we learn them.
The IT Legacy Committee in conjunction with UNISYS in Roseville formed a task team to find a new location for the History Wall shadow boxes. Contact webmaster@vipclubmn.org if you have ideas or would like to participate; next team meeting @10:30 9/14 in the plant 4 old nurses office.
The webmaster is transitioning our web site navigation tab titles to resemble book chapter identifications instead of pages, i.e. '10. IT Legacy' instead of 'IT Legacy, Pg 10'. This re-labeling numbering continues the process of story collection from those of us who have experienced parts of the rich 70-year history of our companies! Reader comments and further contributions to help tell the whole story are always welcome - webmaster.

November Club Elections: Your Club needs volunteers for the 2017 board; Secretary, Vice President, Director, Director, ... please contact us if you have 6 to 12 hours per month to help lead our organization into the future - we have a minimum vetting process; talk to Lowell at 651-483-3709 and/or Keith at 651-894-2182.
Contact Lowell to post items in this section.

---
3. Next Event - September 14 at 7:00 PM in the UNISYS, Eagan facility
Dr. Kathryn Pearson, U of M Political Scientist, will speak about the upcoming elections. Dr. Pearson specializes in American politics; her research and teaching focus on the United States Congress, elections, women and politics, and political parties. In her talk, she will provide a preview of our 2016 Elections, explaining how political scientists analyze the presidential campaigns and the most competitive congressional elections. Kathryn spoke to us on similar topics in 2012 - glad to have her back!
see .
Section 6.2 below has GPS and driving directions or use Google Maps:
---
4. Article for the Month:
June, July, August: Nothing in the works, please send something to Lowell.
May: We have two people items this month; the 2007 oral interview of Marc Shoquist by John Westergren and Rapinac's army experiences to complement his 2007 oral interview.
April: The April web site article is a paper listing the artifacts transferred from Lowell's temporary basement repository to the Lawshe Memorial Museum in July 2015. Each of those listed items illustrates or describes bits and pieces of our extensive Information Technology Legacy.
March: This is a compendium of the 'Legacy' articles which have appeared in our newsletters since 2006 - the Legacy Committee's biography.
Previous 'Article for the Month' items are listed and linked on the Legacy Project, Documents page 15; now 121 items since April, 2007.
---
5. Site Update Log*
August 24: Archived the June 2016 newsletter. Added section 3, Precision Agriculture to chapter 69; Systems, Commercial. Continued tab title re-numbering as chapters versus page numbers. Archived the February-April entries of this section.
July 16: began revision of tab titles to resemble book chapters, i.e. 10. IT Legacy is chapter 10 of this web site.
July 11: Began to remove page numbers from selection tabs. Archived the April newsletter and posted the BBRG June newsletter link on the Newsletter page.
June 23: Updated section 2 of page 4. Updated section 3 above.
May 15: Added a Steve Lindfors' 2016 book to section 3 of page 15, documents. Updated section 2 of page 8, Periodic groups. Added a River Cruise registration form as page 95. Updated section 3 above. Archived the January & February 2016 entries from this section. Added three more research web site links to page 80, section 6.1 and then moved section 6.9 to and entry in section 5. Added a new section 6.9 with a site from Dave Shelander. Updated page 0 with a link to page 95 and an asterisk indication as to which pages have been translated to foreign languages.
May 1: Updated page 68, Systems ASOC with a note in the introduction that the page is now available in the Latvian language.
The October 2007 through April 2016 chronology of previous updates is in printer definition format (pdf).
* As of November 2009, changes to the Announcements section of this home page are not listed.

---
6. Venues, GPS Locations, and Driving Directions:
6.1 Unisys Plant 4 in Roseville: Set your GPS unit to Roseville MN, 2470 Highcrest Road. From Hwy 35W north; exit onto W County Rd C to go west a mile, then turn left onto Walnut St. Then turn right onto Terminal Road for half a block, turn right at Highcrest Rd. to building entrance. From 35W south, exit on Industrial Way / St. Anthony Blvd off ramp, turn left, drive under the freeway, then turn right onto Walnut St. Follow it 0.8 mi north then turn left on Terminal Road. Go ½ block and enter the UNISYS parking lot on the right. From Hwy 36 east, drive west until 36 joins Hwy 35W just past Hwy 280, then exit at the Industrial Way / St. Anthony Blvd. off ramp of 35W. Go north on St. Anthony Blvd. to Walnut St. [the first street on the right]. Turn right onto Walnut Street. From Hwy 280 northbound, use left lane exit just past County Rd B for Terminal road access [St Croix St.] Turn left at Terminal Rd, then 1.5 mi. to Highcrest Rd.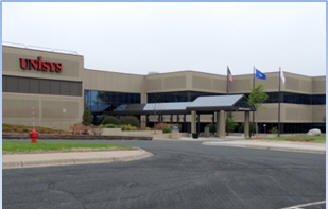 6.2 Unisys MACS in Eagan: Set your GPS unit to Eagan MN, 3199 Pilot Knob Road. From Hwy 35E take the Pilot Knob Road exit ramp. Then go north on Pilot Knob Road about ½ mile to Tower View Road. We use the Unisys north parking lot and the visitor entrance thereby.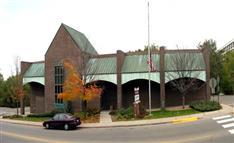 6.3 Lawshe Museum in South St. Paul: Set your GPS unit to South Saint Paul, 130 Third Avenue. From the Roseville area, take Hwy 36 to I-35E south toward downtown St. Paul. Get into the left lane then take the I-94/Hwy 52 left exit to merge onto Hwy 52 going south. 3.4 miles later, take the Butler Ave exit and turn left. Go 0.7 mi and turn right onto MN156 S. After 1.8 mi, turn right onto Grand Ave. W – Drive up the hill a block and turn left; the parking lot is then 400 ft. on the left. From the Eagan area, take I494 toward the Mississippi river then take exit #65 onto 7th Ave. Turn left and drive a mile to South view Blvd, turn right at the light. After 0.3 mi, turn left onto 3rd Ave – the museum parking lot is then 0.2 mi on the right.
6.4 LMCO: Set your GPS unit to Eagan, MN, 1303 Corporate Center Drive, Suite 100. From Roseville area, take 35E south through St. Paul then exit to the west onto I-494. Then take exit 71 for Co Rd 31 (Pilot Knob Road) and go south. Turn left onto Corporate Center Drive, then when you see the Lockheed Martin sign, turn left, start up the hill then turn left into the parking log - drive through the parking lot to the west side of the building and turn left into that parking lot section. Enter the building through the west door. From Minneapolis or Bloomington, get onto 494 going East then take exit 71 onto Pilot Knob Road going south - then follow the Corporate Center Drive instructions above.
6.5 Highland Park: Set your GPS unit to St Paul, 1200 Montreal Ave. From the Roseville area; take 36 to 35E going south through the city, exit at W 7th (Hwy 5) and turn right. After three blocks angle right onto Montreal Ave and drive uphill ½ mile. The Pavilion is on the left. From the Eagan area take 35E north toward St. Paul, exit at W 7th (Hwy) 5 and turn left. Proceed to Montreal Ave angling right and drive ½ mile. From St. Paul, find Snelling Avenue, drive south to Montreal Ave then turn left. Drive ¼ mile to Pavilion on right.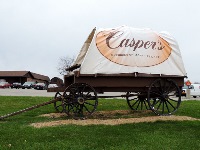 6.6 Casper's Cherokee House in Eagan: Set your GPS to Eagan MN, 4625 Nicols Road, From I35E, take the Cliff Road exit and go West to Nicols, turn left. From Cedar Ave, take the Cliff Road exit, go East to Nicols, then turn right.
6.7 Mermaid in New Brighton: Set your GPS unit to Moundsview, MN - 2200 CR 10. From Roseville, Minneapolis, and other southwest points - take I35W north then at exit 28C take ramp right for CR10, cross over the bridge then turn left onto Co. Rd H. From Eagan and southeast points - take I35E north to I694 West, keep in the right lane for Hwy 10, get into the left lane, cross over I35W then turn left onto Co Rd H.
6.8 Charles Babbage Institute: Set your GPS address to 222 - 21st Avenue South Minneapolis, MN 55455. The walking location is Room #211 in the Andersen Library second floor. For parking, the closest is lot C86/the Law School lot that has shared contract and visitor parking. A parking alternate site is the city parking next to the Marriott Courtyard hotel, formerly Holiday Inn at seven corners. This is about 1.5 blocks to the west of CBI, 1 block east of the I35W Washington Avenue freeway exit.
6.9 Joseph's Grill in St. Paul: Set your GPS address to St Paul, MN - 140 Wabasha St S 55107. From the Roseville area take 35E South toward St Paul, get into the left lane and exit onto Hwy 52 going south. After crossing the Mississippi river, take the ramp right for Lafayette Rd toward Plato Blvd. Turn right onto Plato (west) for 0.2 mi then turn right onto Wabasha (north). After 1/2 mi, Joseph's will be on the right. From the Eagan area take 35E north to I494 east to Hwy 52 going north. Take the ramp right for Lafayette Road then turn left (west) onto Plato Blvd. After 0.7 mi, turn right (north) onto Wabasha, Joseph's will be on the right after 1/2 mi.
6.10 Lost Spur in Eagan:
Set your GPS to St Paul, 2750 Sibley Memorial Hwy, 55121 or take exit #98 off I-35E onto Lone Oak Road. Go west across Pilot Knob Road and then down the hill to Hwy 13. Turn right and proceed north ~ ½ miles to the Lost Spur (City View) entrance on the right.

---
7. Disclaimer:
Please read the following terms and conditions carefully before using this Web site.
By accessing or using our site, you agree to the following terms and conditions. You should review these regularly as they may change at any time at our sole discretion. If you do not agree to any term or condition, you should not access or otherwise use our site's pages. "Content" refers to any materials, documents, images, graphics, logos, design, audio, video, and any other information provided from or on our Web site.
We provide this site for your convenience only!
Our Web site is provided to you without charge for your information. By merely providing access to our web site content; we do not warrant nor represent that:

The content is accurate or complete;
The content is up-to-date or current;
We have a duty to update any content;
The content is free from technical inaccuracies or typographical errors;
Links to pages or sites outside of the VIP CLUB site are available or accurate; and
Your access to our Web site will be free from interruptions, errors, computer viruses, or other harmful components.
Your written contributions or corrections to our IT Legacy are and will be appreciated, send to the Webmaster.