2. Announcements:
You can help! CBI is interviewing women who worked in industry 1960s-90s ... what did computing get right? CBI is interviewing ladies about ytheir work & career at your home, office, or the Babbage institute on the U of MN west bank. Contact tmisa@umn.edu (612-624-5050) to schedule an appt.

[11/21/2015]

Not one of us, BUT an IT pioneer in every sense of the word: Gene Amdahl, Pioneer of Main Frame Computing, died at age 92.

[11/13/2015]

December 3, 11 AM: Annual UNIVAC Old Timers' Reunion at the Lost Spur in Eagan instead of the Ft. Snelling Officers' Club - notices were emailed. Send a note to labenson@q.com if you didn't get it or leave a message on his home phone; 651-483-3709. Sandwiches will be $8 w/chips; ham, turkey, or beef. PLEASE, we do need a sandwich count ahead of time - deadline is November 30! As of 11/21, 159 are coming and 92 won't make it this year.

[11/21/2015]

December 10, 3:30 PM: Annual VIP Club Christmas Dinner/Dance at the Lost Spur in Eagan, reservations and fee required. Details also in section 3 below.

Monday, Feb. 15 2016

, at the University of Pennsylvania and around Philadelphia at tbd locations - celebrations of the 70th Anniversary of the 1946 dedication of ENIAC. Send your comments about that event to webmaster@vipclubmmn.org - he'll send a compendium of MN notes to the organizers.

[11/21/2015]

For your 2016 calendar/electronic device: Our first social program of the new year will be

February 10

at 7 PM at UNISYS, Roseville.

April 20

will be the Volunteer Recognition lunch at Joseph's.

May 6

will be the Roseville Good Old Days at the Mermaid.

May 13

will be Syttende Mai luncheon at Casper's.

November 18

will be UNIHOGS at Casper's.

[11/21/2015]
Contact Lowell to post items in this section. TOP Δ
---
3. Next Event Summary
December 10, 3:30 PM (Thursday): The VIP Club Board invites you to our Annual Christmas Dinner/Dance at the Lost Spur Country Club in Eagan.
We suggest that you to make reservations early to get priority seating with friends. Reservation requests with your check of $20.00 per person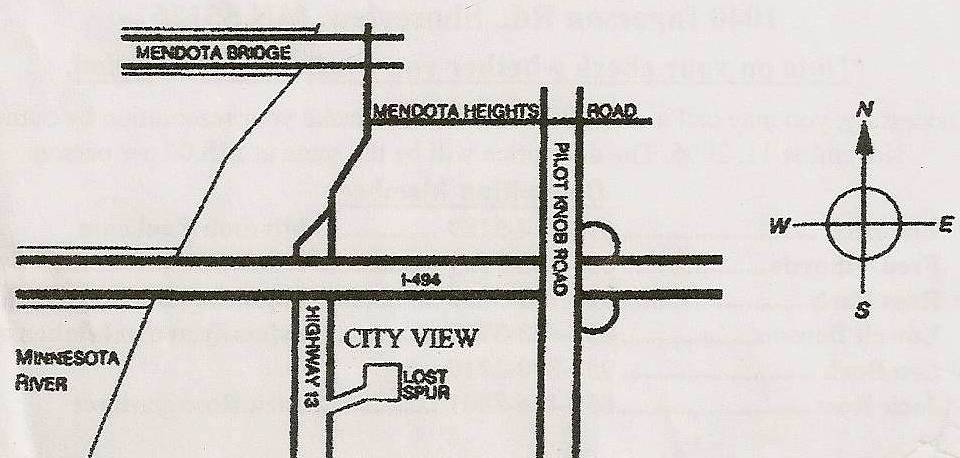 should be mailed to Bill Galle before December 2nd using the on-line form. The form is also available in our November and December newsletters. Our agenda for the afternoon/evening is:
<![if !supportLists]> · <![endif]> 3:30 PM – 4:30 PM Initial social time with nametag check in, hors d'oeuvres, & cash bar;
<![if !supportLists]> · <![endif]>4:30 PM – 5:30 PM Enjoy an elegant sit down dinner with salad, vegetable, your choice of entrée, and dessert selection;
<![if !supportLists]> · <![endif]>5:30 PM – 5:45 PM Introduction of guests and the 2016 VIP Club Board; and
<![if !supportLists]> · <![endif]>5:45 PM – 8:00 PM Music for your listening and/or dancing pleasures by a one-man band, Mr. Lyndon Peterson.
LABenson. Section 6.10 below has GPS and driving directions
---
4. Article for the Month:
Please send webmaster@vipclubmn.org your candidate article for future consideration.
December: We've posted a letter to Ole and Measuring Success = Volunteer Hours! Recapping a Decade of IT Legacy Committee Accomplishments.
November: Employed 60 Years! - James Bacon, innovation legend personified. This paper includes the 1991 organization chart of VP Bill Marberg.
October: This month we have a doublet; the 1980 Clyde Allen engineering organization (when the VIP Club started) and the 1961 Noel Stone engineering organization (when Lowell was hired).
September: An Eighteen Bit Computers paper is a collection of inputs from almost a dozen people who recall applications for NASA, the Navy, the Marines, and others.
Previous 'Article for the Month' items are listed and linked on the Legacy Project, Documents page 15; now 115 items since April, 2007. TOP Δ
---
5. Site Update Log

*
November 21: Updated the next event section 3 above. Also, fixed a couple of typos on two ENIAC discussion pages.
November 10: Did some error corrections and archived the October 2015 newsletter, see page 7 section 3.
October 28: Posted December Article for the month above and the 2015 obit list on page 39.
October 20: Added sections 3.6, 4, and 5 to page 53, 18-bit computers. Added three new ENIAC history links to section 6.1 of page 80, Contacts and Links. Archived the September newsletter in section 3 of Newsletters, page 7. Revised the Newsletters page introduction. Changed page 80 URL from Links.html to Contacts-Links.html and updated tabs accordingly.
October 14: Corrected the spelling of Patuxent River on 9 pages. Corrected the nomenclature of aircraft mentioned on this site by inserting a dash, i.e. P-3C vice P3C. Added a Christmas Dinner Registration information as page 94, a sub-tab of the Contacts & Links page. Updated the next event, section 3 of this page. Posted the November Article for the month above and on page 15; the IT Legacy, Documents tab. Posted the Christmas Dinner reservation form as page 94, a sub-tab of the Contacts & Links page.
September 30: Updated the UNIHOGs/UNITURKEYs flyer linked from section 2 above and from section 4.1 or page 8.
September 17: Posted the October 'Article for the Month' links in section 4 above and on page 15. Posted the next event summary in section 3 above. Redefined section 5 of page 80 as IT Technology Education and shuffled links accordingly. Removed old venues from section 6 below. Added section 4.1.5 to page 54, 16-bit Computers.
August 17: Added Rowayton, Connecticut link to section 6.3 of the Contacts and Links page. Posted the September 'Article for the Month' in section 4 of this page and in section 3 of page 15. Archived the June newsletter.
July 15: Updated the next event section of this page. Updated the IT Legacy, pg 10 Introduction. Updated section 4 of the Systems, Airborne page. Update the People, A-B with section 2.4; Alden Allen's career summary. Added section 6.12 to this page. Archived February thru April, 2015 of this Site Update Log.
July 4: Added ICU to section 4.3 of the Computer, 16-bit page.
October 2007 through June 2015 chronology of previous updates is in printer definition format (pdf).
*As of November 2009, changes to the Announcements section of this home page are not listed. TOP Δ
---
6. Venue Directions:
6.1 Unisys Plant 4 in Roseville: Set your GPS unit to Roseville MN, 2470 Highcrest Road. From Hwy 35W north; exit onto W County Rd C to go west a mile, then turn left onto Walnut St. Then turn right onto Terminal Road for half a block, turn right at Highcrest Rd. to building entrance. From 35W south, exit on Industrial Way / St. Anthony Blvd off ramp, turn left, drive under the freeway, then turn right onto Walnut St. Follow it 0.8 mi north then turn left on Terminal Road. Go ½ block and enter the UNISYS parking lot on the right. From Hwy 36 east, drive west until 36 joins Hwy 35W just past Hwy 280, then exit at the Industrial Way / St. Anthony Blvd. off ramp of 35W. Go north on St. Anthony Blvd. to Walnut St. [the first street on the right]. Turn right onto Walnut Street. From Hwy 280 northbound, use left lane exit just past County Rd B for Terminal road access [St Croix St.] Turn left at Terminal Rd, then 1.5 mi. to Highcrest Rd.
6.2 Unisys MACS in Eagan: Set your GPS unit to Eagan MN, 3199 Pilot Knob Road. From Hwy 35E take the Pilot Knob Road exit ramp. Then go north on Pilot Knob Road about ½ mile to Tower View Road. We use the Unisys north parking lot and the visitor entrance thereby.
6.3 Lawshe Museum in South St. Paul: Set your GPS unit to South Saint Paul, 130 Third Avenue - note map inset at right. From the Roseville area, take Hwy 36 to I-35E south toward downtown St. Paul. Get into the left lane then take the I-94/Hwy 52 left exit to merge onto Hwy 52 going south. 3.4 miles later, take the Butler Ave exit and turn left. Go 0.7 mi and turn right onto MN156 S. After 1.8 mi, turn right onto Grand Ave. W – Drive up the hill a block and turn left; the parking lot is then 400 ft. on the left. From the Eagan area, take I494 toward the Mississippi river then take exit #65 onto 7th Ave. Turn left and drive a mile to South view Blvd, turn right at the light. After 0.3 mi, turn left onto 3rd Ave – the museum parking lot is then 0.2 mi on the right.
6.4 Lockheed Martin IS&GS-Civil: Set your GPS unit to Eagan, MN, 1303 Corporate Center Drive, Suite 100. From Roseville area, take 35E south through St. Paul then exit to the west onto I-494. Then take exit 71 for Co Rd 31 (Pilot Knob Road) and go south. Turn left onto Corporate Center Drive, then when you see the LMCO sign, turn left, start up the hill then turn left into the parking log - drive through the parking lot to the west side of the building and turn left into that parking lot section. Enter the building through the west door. From Minneapolis or Bloomington, get onto 494 going East then take exit 71 onto Pilot Knob Road going south - then follow the Corporate Center Drive instructions above.
6.5 Highland Park: Set your GPS unit to St Paul, 1200 Montreal Ave. From the Roseville area; take 36 to 35E going south through the city, exit at W 7th (Hwy 5) and turn right. After three blocks angle right onto Montreal Ave and drive uphill ½ mile. The Pavilion is on the left. From the Eagan area take 35E north toward St. Paul, exit at W 7th (Hwy) 5 and turn left. Proceed to Montreal Ave angling right and drive ½ mile. From St. Paul, find Snelling Avenue, drive south to Montreal Ave then turn left. Drive ¼ mile to Pavilion on right.
6.6 Casper's Cherokee House in Eagan: Set your GPS to Eagan MN, 4625 Nicols Road, From I35E, take the Cliff Road exit and go West to Nicols, turn left. From Cedar Ave, take the Cliff Road exit, go East to Nicols, then turn right.
6.7 Mermaid in New Brighton: Set your GPS unit to Moundsview, MN - 2200 CR 10. From Roseville, Minneapolis, and other southwest points - take I35W north then at exit 28C take ramp right for CR10, cross over the bridge then turn left onto Co. Rd H. From Eagan and southeast points - take I35E north to I694 West, keep in the right lane for Hwy 10, get into the left lane, cross over I35W then turn left onto Co Rd H.
6.8 Charles Babbage Institute: Set your GPS address to 222 - 21st Avenue South Minneapolis, MN 55455. The walking location is Room #211 in the Andersen Library second floor. For parking, the closest is lot C86/the Law School lot that has shared contract and visitor parking. A parking alternate site is the city parking next to the Marriott Courtyard hotel, formerly Holiday Inn at seven corners. This is about 1.5 blocks to the west of CBI, 1 block east of the I35W Washington Avenue freeway exit.
6.9 Joseph's Grill in St. Paul: Set your GPS address to St Paul, MN - 140 Wabasha St S 55107. From the Roseville area take 35E South toward St Paul, get into the left lane and exit onto Hwy 52 going south. After crossing the Mississippi river, take the ramp right for Lafayette Rd toward Plato Blvd. Turn right onto Plato (west) for 0.2 mi then turn right onto Wabasha (north). After 1/2 mi, Joseph's will be on the right. From the Eagan area take 35E north to I494 east to Hwy 52 going north. Take the ramp right for Lafayette Road then turn left (west) onto Plato Blvd. After 0.7 mi, turn right (north) onto Wabasha, Joseph's will be on the right after 1/2 mi.
6.10 Lost Spur in Eagan:
Set your GPS to St Paul, 2750 Sibley Memorial Hwy, 55121 or take exit #98 off I-35E onto Lone Oak Road. Go west across Pilot Knob Road and then down the hill to Hwy 13. Turn right and proceed north ~ ½ miles to the Lost Spur (City View) entrance on the right.
---
7. Disclaimer:
Please read the following terms and conditions carefully before using this Web site.
By accessing or using our site, you agree to the following terms and conditions. You should review these regularly as they may change at any time at our sole discretion. If you do not agree to any term or condition, you should not access or otherwise use our site's pages. "Content" refers to any materials, documents, images, graphics, logos, design, audio, video, and any other information provided from or on our Web site.
A. We provide this site for your convenience only!
B. Our Web site is provided to you without charge for your information. By merely providing access to our web site content; we do not warrant nor represent that:
The content is accurate or complete;
The content is up-to-date or current;
We have a duty to update any content;
The content is free from technical inaccuracies or typographical errors;
Links to pages or sites outside of the VIP CLUB site are available or accurate; and
Your access to our Web site will be free from interruptions, errors, computer viruses, or other harmful components.
Your written contributions or corrections to our IT Legacy are and will be appreciated, send to the Webmaster.